Big four US mobile operators can't get no dissatisfaction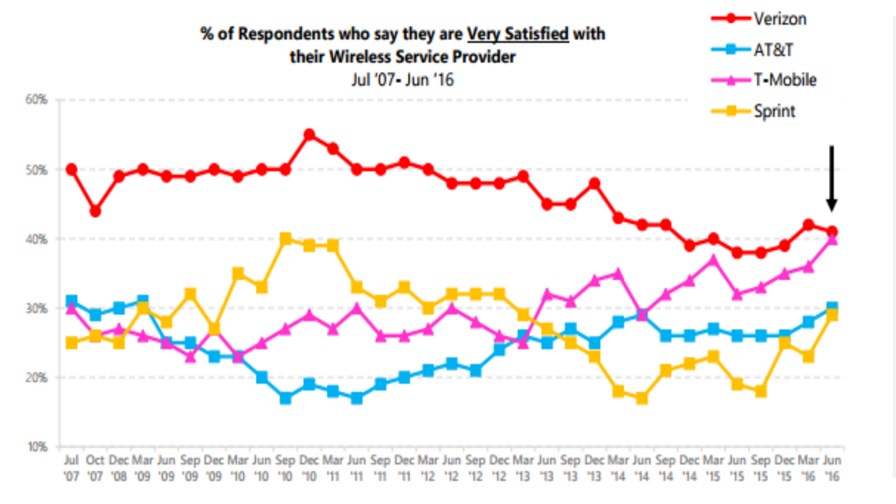 US mobile network performance shows narrowing gap between 'big four'
Price therefore rises in importance for consumers
Operators need to exceed expectation to keep customers loyal
The big four mobile operators in the US - Verizon, AT&T, T-Mobile and Sprint - appear to be fast converging in terms of customer satisfaction and therefore switching intentions, according to 451 Research. It's just published its 'Voice of the Connected User Landscape (VoCUL)' consumer survey titled, "Wireless Service Providers Moving Closer to Parity," in which it's identified what it calls a 'narrowing gap' over the last nine years between all the players in terms of their respective performance from their customers' viewpoints.
Measures such as switching intentions, dropped calls experienced, reception and coverage, cost and overall satisfaction mostly show the lines tracking individual network performance drawing together (see above).
Poor coverage seems to be an exception, with T-Mobile following a track of its own. Over half of the T-Mobile users who expressed an intention to switch cited poor coverage as the main reason.
In terms of data speed, coverage and reliability, Verizon was the standout satisfier. T-Mobile was the standout when it came to cost with around 40 per cent of its customers expressing themselves 'very satisfied' with T-Mobile's charges. Between September 14 and March 16. Verizon and AT&T bumped along at between 10 and 15 per cent satisfied with cost and Sprint did about 10 per cent better than that over the same period.
But the important thing to note was the overall satisfaction ratings and the way they have converged.
If, as those figures imply, all the networks end up being much of a muchness what happens to competitive advantage and differentiation? How do you sell yourself? Does price become the only differentiator? In which case, does the market head off on "a race to the bottom?"
No player wants to see that, and 451 Research suggests that the way forward is to try to 'exceed' customer expectations in a loyalty-inducing way, rather than just meet the expectations about as well as your three rivals do. It points out that T-Mobile's Binge On feature - which offers free video as long as the content provider routes it through T-Mobile's compression engines - is a good example of the 'exceeding expectations' approach as a way of driving loyalty, especially amongst so-called millennials who are judged the least loyal.
Email Newsletters
Sign up to receive TelecomTV's top news and videos, plus exclusive subscriber-only content direct to your inbox.