Ofcom shows UK broadband gains, with cable outperforming FTTC, although rural users continue to miss out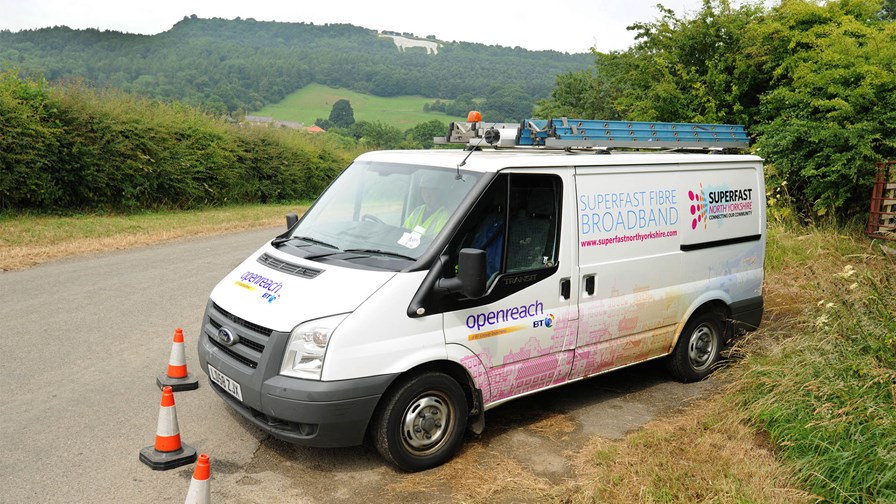 UK telecoms and media regulator Ofcom has published its latest six-month report on residential broadband speeds. It found that between November 2013 and May 2014, the average actual UK broadband speed increased by 5 per cent (almost a whole 1Mbit/s, wow) to 18.7Mbit/s. So-called 'superfast' services, those with a headline speed of 30Mbit/s and above, increased from 24 per cent to 28 per cent of connections, while average superfast speeds remained constant at 47Mbit/s.
The average speed delivered via cable broadband connections increased 8 per cent to 43.3Mbit/s, which Ofcom said was mainly due to cable customers upgrading to faster services. However, average speeds for fibre connections actually decreased by 2 per cent to 42.0Mbit/s, meaning that the average broadband speed delivered by cable services is now faster than that of fibre for the first time.
The reduction was likely due to a change in the proportions of the UK's two main fibre packages – you generally sign up to a VDSL deal that promises up to 38Mbit/s or up to 76Mbit/s. Ofcom noted that the proportion of the lower speed connections increased slightly, plus there was a small decrease in the average speed recorded for the higher tier connections (time for some vectoring perhaps, BT?).
Despite the performance gains of cable and VDSL, ADSL remains the most common type of broadband in the UK market. Average speeds increased by 10 per cent to 7.4Mbit/s, which Ofcom thinks is potentially a result of broadband infrastructure improvements related to fibre roll-out, such as capacity upgrades, which are also benefitting ADSL connections.
Virgin Media's new 152Mbit/s cable service achieved the fastest download speed over a 24 hour period, averaging 141.9Mbit/s, followed by BT's 76Mbit/s fibre package, which delivered an average download speed of 62Mbit/s. Ofcom's research found that Plusnet's 76Mbit/s package delivered the fastest upload speeds at 17.1Mbit/s on average.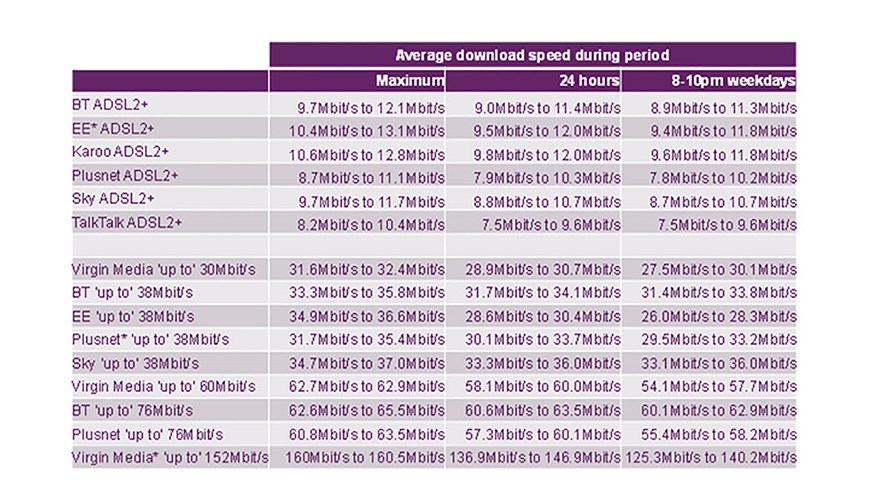 And now the bad news
Headline speeds are one thing, but actual performance values are affected by numerous issues. One of the major ones, and which Ofcom has studied, is contention. Its research found that the extent to which speeds were maintained during peak periods (8pm to 10pm), when the volume of people trying to access the network simultaneously is at its highest, varied significantly between providers.
EE, known primarily for its 4G mobile service, also provides fibre fixed-line connections, often as a bundle. Its 38Mbit/s package experienced the greatest degradation in speeds during peak times, said Ofcom. Only 5 per cent of its consumers received average peak-time speeds that exceeded 90 per cent of their maximum speed. Customers of satellite TV company Sky, on the other hand, experienced the least degradation when using its 38Mbit/s package.
Speeds were also slower, surprise surprise, for rural customers. Due to the longer distances involved from exchange to home, ADSL performance tails off. There is also very little choice available, with rural superfast services few and far between. Average broadband downlink speeds in rural areas was measured at 13.6Mbit/s.
ADSL subscribers also suffer from more service disruption than VDSL or cable customers. Ofcom found that ADSL broadband customers experienced an average of 0.5 disconnections lasting longer than 30 seconds per day, whereas customers on 'superfast' fibre and cable broadband packages experienced an average of 0.1 disconnections lasting longer than 30 seconds per day.
"More and more consumers are benefitting from improvements to the UK's broadband infrastructure," said Ed Richards, Ofcom Chief Executive, who is stepping down from the role at the end of the year. "While good progress is being made, there is still work to do in ensuring more widespread distribution of high-speed, reliable broadband services across the UK."
Email Newsletters
Sign up to receive TelecomTV's top news and videos, plus exclusive subscriber-only content direct to your inbox.