Bricks and mortar storekeepers can benefit from 'digital' inventory accuracy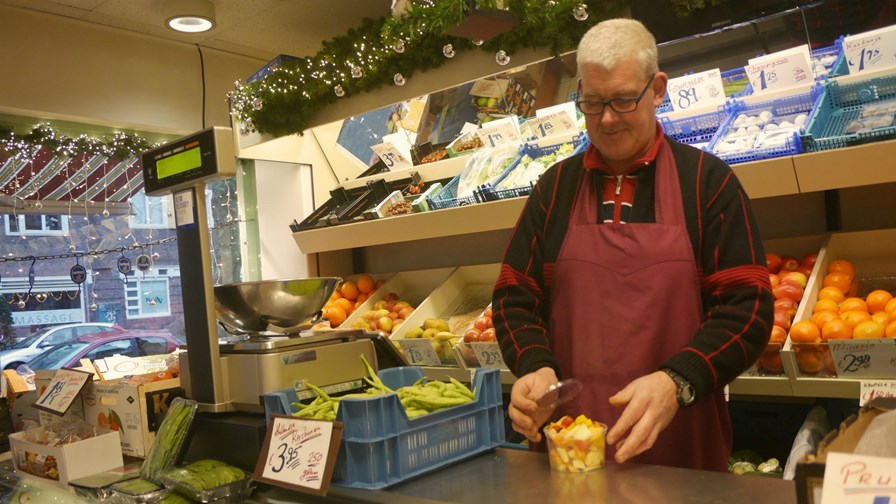 Inventory super-efficiency vital to compete against e-commerce websites
99.9 per cent accuracy required every time, all the time
Traditional, old-fashioned inventory counting methods can reduce accuracy by 35 per cent
The way forward is RFID, AI and the cloud
Quite a few aspects of the global telecoms sector have a degree of novelty about them and can be stimulating but one that doesn't really cut the mustard in the excitement stakes is inventory efficiency in a bricks and mortar store. See, you're probably glazing over already.
However, while the subject isn't exactly a gut-grabber, the fact is that if physical retail outlets are truly to transform their operational efficiency in the age of Amazon and its e-commerce ilk, (which is what all of them claim they want to do) they are going to have to perfect the art of maintaining something like 99.99 per cent inventory accuracy.
It's straightforward really, stores that don't know exactly where individual items of stock are located and how many there are of them won't be able to serve their customers properly, nor will they be able to carry through what, in the trade, is referred as "competitive omnichannel retail strategy." What this really means is a multichannel approach to sales that seeks to provide the customer with a seamless shopping experience whether that customer is shopping online from a desktop or mobile device, by telephone or is physically wandering the aisles of a brick-and-mortar store.
It is a fact of life that for retailers still using traditional inventory counting methods in sectors such as fashion and soft goods, inventory accuracy can, and frequently does, fall to 65 per cent. And if a shop doesn't know where 35 per cent of it's stock is, the shopping experience for the customer is going to be dismal and that means disappointed punters and lost sales.
There is a solution. It includes a resurgent RFID sector and the arrival of a new boy in the shop, AI. RFID use in retail fashion can quickly provide greatly increased ROI. ABI Research reckons that a clothing store with a turnover of about US$6 million can realistically achieve a 44 per cent ROI within the first year, and that returns will continue to rise from there to reach over 200 per cent in year three.
Then there's the huge number of shelf-based shops personified by grocery stores and supermarkets. It is commonplace in those environments for shop workers to spend 20 hours of a 40 hour working week simply counting stock. It's crazy and unsustainable. Automated inventory process will save enormous sums in terms of labour costs whilst driving sales and improving the customer experience. It's the only way to go.
Press release below
Inventory management now a key battleground in the digital transformation of brick and mortar retail
London, United Kingdom - 08 Aug 2018
To truly transform operational efficiency within physical stores, retailers must be able to achieve near-perfect inventory accuracy. With computer vision use cases maturing, Artificial Intelligence (AI) tools becoming more powerful, and RFID technology demonstrating major ROI, retailers are now able to approach 100% inventory accuracy, therefore enabling a transformation of the industry. This is according to ABI Research, a market-foresight advisory firm providing strategic guidance on the most compelling transformative technologies.
"Stores which have limited intelligence on the location and quantity of stock at the individual item level cannot expect to adequately serve their customers or successfully execute a competitive omnichannel retail strategy," commented Nick Finill, Senior Analyst at ABI Research.
For many retailers using traditional inventory counting methods in the apparel, fashion, and soft goods sector, inventory accuracy can drop to around 65%, resulting in a poor experience for shoppers and lost sales. Using RFID technology, these retailers can reach near-perfect inventory intelligence at more regular intervals, leading to improved customer satisfaction, reduced shrinkage, and improved sales velocity. In most cases, fashion retailers employing RFID can increase annual revenues by at least 3%.
RFID deployments in the fashion retail sector have demonstrated clear ROI for retailers deploying the technology at scale. ABI Research calculates that an apparel store with annual sales of just under US$6 million can realistically achieve a 44% ROI within the first year, with returns increasing to over 200% in the third year.
"The resurgence of RFID as a powerful inventory management tool in fashion retail has been driven by rapidly falling costs and demand for greater end-to-end insight in retail operations," said Finill. "However, RFID will fail to transform the entire retail market due to its limited viability outside of soft goods and fashion verticals."
In shelf-based retail environments such as grocery stores and supermarkets, 20 hours of labor per week is spent on average by associates performing stock counts. The automation of these processes, using computer vision, robotics, and AI, promises to save labor costs for retailers, in addition to improving the customer experience and driving sales.
As physical stores strive to perfect how they serve customers and integrate various shopping and delivery channels, being able to accurately count, control and predict available inventory will become a basic operational requirement, making the right combination of digital inventory tools a necessity for any forward-thinking retailer.
The emergence of easily integrated, cloud-based managed service models has played a major role in the transformation of inventory management. Diverse SaaS inventory solutions offered by disruptors such as Infor, Nedap, Scandit, and BossaNova are helping retailers digitize and automate the entire in-store inventory lifecycle without the need for major capital expenditure.
"In order to remain competitive with e-commerce retailers and other brick and mortar rivals, physical stores will soon be adopting IoT and AI-enabled inventory tools as the standard, rather than the exception," Finill concluded.
These findings are from ABI Research's Transforming In-Store Inventory Management report. This report is part of the company's Smart Retail service, which includes research, data, and Executive Foresights.
This content extract was originally sourced from an external website (
ABI Research Media Releases
) and is the copyright of the external website owner. TelecomTV is not responsible for the content of external websites.
Legal Notices
Email Newsletters
Sign up to receive TelecomTV's top news and videos, plus exclusive subscriber-only content direct to your inbox.