It's time to up the 5G stakes, urges Huawei chairman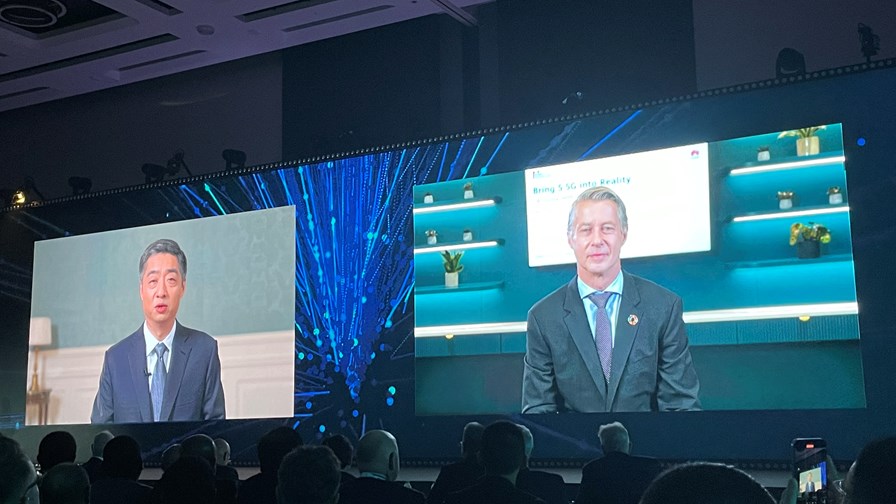 Huawei is hosting the MBBF 2023 event in Dubai
The monetisation of 5G is a key agenda topic
The vendor's chairman urges network operators to keep innovating and investing in order to realise their 5G dreams and cope with data traffic demands
Fixed wireless access (FWA) is highlighted as a successful 5G use case
DUBAI – Global Mobile Broadband Forum (MBBF) 2023 – As mobile network operators continue their increasingly desperate search for a way to get some meaningful return on their massive 5G network investments, the current chairman of Huawei has suggested here at the MBBF event in Dubai that operators need to invest even more in 5G in order to offer a better user experience and develop new revenue-generating services.
The two-day event was jointly inaugurated by Ken Hu, rotating chairman at Huawei (pictured above, left), and Mats Granryd, director general of GSMA (pictured above, right), who suggested the industry has achieved "a lot of progress" since the commercial launch of 5G four years ago.
That progress, though, has not translated into a business success for the telcos, which have struggled so far to improve their financials and find a way to generate improved sales from 5G-enabled services, as we have reported previously – 5G reality bites hard in South Korea.
While 5G subscriptions have grown at a much faster pace than with 4G, according to multiple industry reports, that rapid adoption alone is not enough. The telecom industry must now create a "better user experience" and "scale up the industry, to maximise the value of our investment into 5G", explained Hu. "Consumers really like 5G and [the] industry needs 5G," so this is the right time to focus on enhancements that can deliver a greater return on the investments made by the network operators, he added.
According to Huawei's rotating chairman, the industry still has a lot of work to do to enhance its technical capabilities, evolve the technology, create a better user experience, scale up and maximise the value of its 5G investments.
But his suggestions as to how telcos might improve their 5G returns were hardly revolutionary.
For the consumer segment, he suggested that enhanced mobile broadband speeds, enabled by the use of advanced technology and network densification, should be the basis for improved user experiences (something that requires even greater network investment by the seemingly cash-strapped network operators).
For the enterprise sector, Hu suggested focusing on identifying the needs of specific industry verticals and working with ecosystem partners and vertical sector specialists, something the operators have been trying to do for years.
He noted that the development of 5G-enabled business services provides the telco sector with "a great opportunity to play a different role in the industrial digitalisation." But to be successful, "we need to go beyond connectivity. We need to think about how to build our capability on cloud, on AI, on system integration," he added.
"I believe we need to keep innovating. Because technology is changing so fast – large language models (LLM), ChatGPT, driverless cars – the demands are evolving everything, so our networks also need to evolve. We, as an industry, as a whole, need to get ready for the future. That's why we work so hard on 5G-Advanced" which Huawei refers to as 5.5G, he explained.
According to Granryd, 5G offers "very good products" and capabilities for consumers but "maybe even stronger [ones] for B2B".
He cited figures suggesting that the mobile industry will spend roughly $1.5tn by 2030 and 90% of this amount will go towards 5G. Therefore, "we need to be innovative, to come up with new business models; drive this industry to a more profitable and sustainable situation".
The role of FWA
That the industry is struggling for successful 5G applications is evident by how much 5G-enabled fixed wireless access (FWA) – a wireless broadband connectivity service – is being touted as a significant success story. Such services are great to have as part of a mobile operator's portfolio, but are neither groundbreaking or new.
Yet, for the time being, it's providing telcos with something to build on and even wax lyrical about.
According to Karim Benkirane, chief commercial officer at UAE-based operator du, FWA can help to deliver some 5G returns. He presented an industry forecast that suggested there could be more than 300 million FWA connections globally by 2028, of which about 80% would be provisioned using 5G spectrum (the remaining 20% would be over 4G or other wireless connections).
Benkirane added that du has turned to FWA to address various customer needs, starting with a consumer application of connecting the unconnected. It is deploying the technology as a backup link to the current fibre connectivity for large enterprises. And FWA is being offered to new small and medium-sized enterprises (SMEs) as a fast and reliable connectivity option.
The Emirati operator has seen a surge in this aspect, with its 5G FWA traffic now accounting for nearly 60% of the total traffic coming from 5G.
"The potential is there, and we believe 5G FWA is going to have to connect more and more. With 5G Advanced, we believe we will be even providing better experience than fibre – but this is more future looking," he noted.
Marco Zangani, chief network officer of Vodafone Italia and head of group mobile access engineering, delivered a remote keynote speech to highlight 5G monetisation possibilities. He pointed to FWA as an important approach for the operator, as it uses 5G to provide fibre-like services – especially in rural and suburban areas. Such services have already been launched by Vodafone in Italy, Spain and Germany.
Zangani also noted that massive MIMO is key for improving customer experience, and that another monetisation opportunity comes from 5G private networks.
"We expect that all the potential of 5G will be unleashed", he noted, adding that success can be achieved through use cases such as automation in ports, factories, campus and industrial areas, as well as healthcare.
The big question still, though, is when this potential will translate into top- and bottom-line growth for the mobile operator community.
- Yanitsa Boyadzhieva, Deputy Editor, TelecomTV
Email Newsletters
Sign up to receive TelecomTV's top news and videos, plus exclusive subscriber-only content direct to your inbox.