Everyone's a winner with 5G, claims FCC chairman Wheeler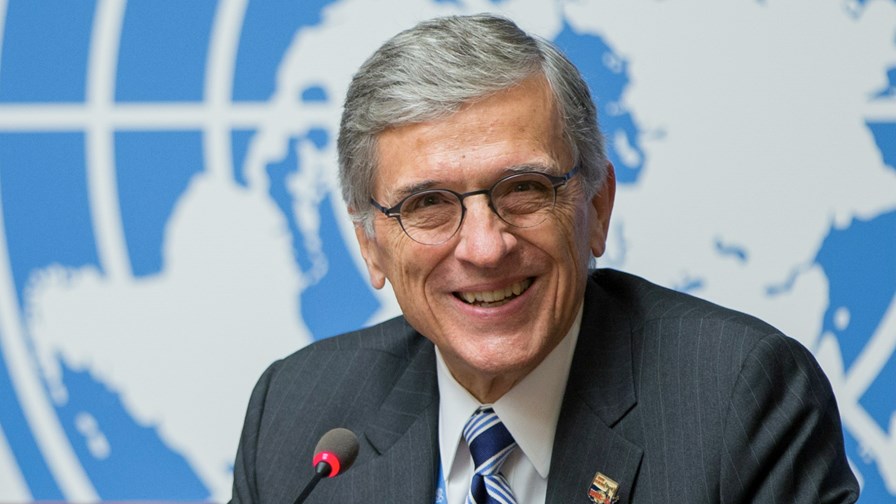 Preview of the FCC chairman's Spectrum Frontiers proposal
200MHz of contiguous spectrum in the mmW bands
14GHz could be available for licence-exempt use
Criticism of other countries spending too much time "studying what 5G should be"
US Federal Communications Commission (FCC) chairman Tom Wheeler laid out his plans for 5G yesterday during a presentation at the National Press Club in Washington, DC. As expected, he was gung-ho about positioning the US as front runner in 5G – his speech was entitled "A Vision for US Leadership in a 5G World" and encapsulated much of his recent thinking and remarks about fifth generation wireless in the US.
The speech was a precursor to the formal publication of Wheeler's new suggested rules on Thursday, designed to identify and open up new spectrum for 5G. The so-called "Spectrum Frontiers" proceeding will be voted on by the FCC commissioners on 14 July.
"American leadership in 5G must be a national priority," said Wheeler. "If we've learned anything in the generational march through wireless connectivity, it is that we have always underestimated the innovation that would result from new generations of wireless networks."
But where America leads, the world should follow, especially as Wheeler believes the main value of 5G by far will be in consumption rather than production: "It is a contest in which everyone can win. Our success and that of others, redounds to the benefit – literally – of everyone in the world."
Wheeler wants to stop the speculative discussion about what 5G could and should be, and instead just get on with it – or rather, impose the regulatory conditions necessary to enable vendors and US operators to focus their pre-standards testing and prepare for commercial rollout as soon as feasibly possible. First item on the agenda: new spectrum. Regardless of the state of discussions about how to use existing spectrum in a more efficient manner, the cellular wants new spectrum (especially in the higher frequency cmW and mmW bands) and 5G will be the means to achieve this.
"Our 5G proposal is the final piece in the spectrum trifecta of low-band, mid-band, and high-band airwaves that will open up unprecedented amounts of spectrum, speed the rollout of next- generation wireless networks, and re-define network connectivity for years to come," said Wheeler. "I'm confident these actions will generate tens of billions of dollars in economic activity."
Technology drives policy
In Wheeler's opinion, the technology should drive the policy rather than the policy drive the technology. That's certainly been the case for a number of years in the US, going back to 3G and the emergence of IS-95 standards, and we all know how that turned out. He also believes that 5G will encompass a number of technologies, and as such will require new access to spectrum in multiple frequency bands.
New spectrum in the low-bands – ideal for wide-area coverage – is being addressed by the FCC's current incentive auction to release spectrum from broadcasters. Mid-band spectrum is coming from the recent AWS-3 and new Citizens Broadband Radio service in the 3.5GHz band, although other mid-band opportunities are also being investigated. That leaves high-band spectrum, which will be the focus of the proposed Spectrum Frontiers policy.
"If the Commission approves my proposal next month, the United States will be the first country in the world to open up high-band spectrum for 5G networks and applications," said Wheeler. "And that's damn important because it means US companies will be first out of the gate. We will be repeating the proven formula that made the US the world leader in 4G. It's a simple formula: Lead the world in spectrum availability, encourage and protect innovation- driving competition, and stay out of the way of technological development."
Wheeler added that this millimetre wave spectrum leads to frequency reuse and denser, more localised, networks. He's looking at making available blocks of at least 200MHz of contiguous spectrum; a factor of ten times more than what we have today. And Wheeler says this new spectrum will also be for licence-exempt applications: "Unlicensed will continue to play a critical role in future 5G networks. Our plan proposes making a massive 14GHz unlicensed band."
This of course leads to spectrum sharing issues, especially in the 28GHz band. It also means more cell sites – a lot more – which means a lot more antenna siting decisions by local governments: "America's local governments will play an important role in determining how we fulfil this national priority."
Less talk, more action
You can read more about the spectrum choices here on TelecomTV. Distancing himself from Europe and Asia, Wheeler upped the rhetoric:
"Unlike some countries, we do not believe we should spend the next couple of years studying what 5G should be, how it should operate, and how to allocate spectrum, based on those assumptions. Turning innovators loose is far preferable to expecting committees and regulators to define the future."
He is in no mood to wait for the standards to be first developed "in the sometimes arduous standards-setting process or in a government-led activity". Instead, he wants to make ample spectrum available and then rely on a private sector-led process for producing technical standards best suited for those frequencies and use cases. So much for 3GPP and ITU. Mind you, some of his FCC colleagues were rather disgruntled by the ITU-led WRC-15 process and not afraid to express their frustrations in public forums (for example "WRC-15 proved to exemplify a broken and outdated process", in statement by Michael O'Rielly to Senate committee in March).
Wheeler ended his speech with a patriotic plea for a new pioneering mind set: "We are the pioneers of a new spectrum frontier. Working together, we can write the next chapter in the mobile revolution that has already transformed our lives and society. We can unleash new waves of innovation and discovery that we are yet to imagine."
Meanwhile, next week Greece hosts the European Conference on Networks and Communications (EuCNC). It's a major event for the engineers planning 5G architectures, and the EU's 5G PPP will be presenting its latest whitepaper, along with presentations from invited representatives from all other regional 5G groups, except the US, which apparently isn't yet ready to share… but at least it'll have plenty of spectrum available to buy.
Email Newsletters
Sign up to receive TelecomTV's top news and videos, plus exclusive subscriber-only content direct to your inbox.