24m "true" 5G subscribers predicted by 2021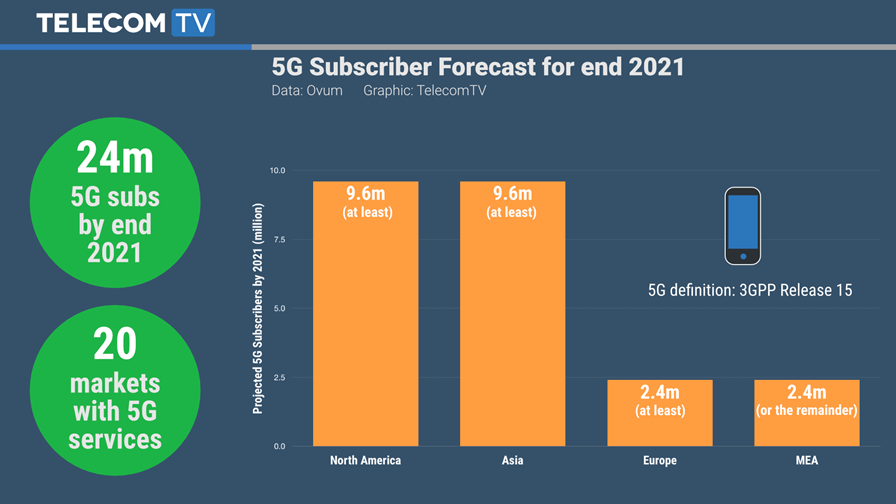 Ovum predicts 24m subscribers to 3GPP Rel-15 services
North America and Asia to dominate with 80 per cent
Initial services will be mainly enhanced mobile broadband
New research released today by Ovum on the opening day of 5G World suggests there will be 24 million 5G subscriptions worldwide at the end of 2021 for mobile and fixed broadband services. North America and Asia will each account for more than 40 per cent of global 5G subscriptions at the end of 2021, followed by Europe with more than 10 per cent of subscriptions, with the Middle East and Africa accounting for the remainder.
Ovum estimates that 5G services will be available in more than 20 markets worldwide by the end of 2021, with services in all four major world regions. However, the vast majority of 5G subscriptions will be concentrated in the US, Japan, China, and South Korea, where major operators have already revealed their timelines for launching 5G services.
"The main use case for 5G through 2021will be enhanced mobile broadband services, although fixed broadband services will also be supported, especially in the US," said Mike Roberts, Practice Leader at Ovum. "Over time 5G will support a host of use cases including IoT and mission-critical communications, but Ovum does not believe those use cases will be supported by standardised 5G services through 2021."
A number of operators have announced plans to launch what they describe as 5G services before 2020, but these will not typically be based on networks and devices complying with 5G standards, and so are excluded from the new forecasts. Ovum defines a 5G subscription as an active connection to a 5G network via a 5G device. 5G is further defined as a system based on and complying with 3GPP 5G standards, beginning with parts of 3GPP Release 15, which is scheduled to be finalised in 2018.
"5G is at an early stage and there is a high degree of uncertainty around 5G deployment and adoption, including significant upside and downside risks," said Roberts, adding that Ovum will be updating its 5G forecasts every six months.
TelecomTV will be filming 5G World for the next two days, so please stop by and say hello.
Email Newsletters
Sign up to receive TelecomTV's top news and videos, plus exclusive subscriber-only content direct to your inbox.