Proof of Concept: VoLTE QoE Assurance with FlowBROKER: Accedian and Sandvine Demo at Mobile World Congress 2016
Accedian, Sandvine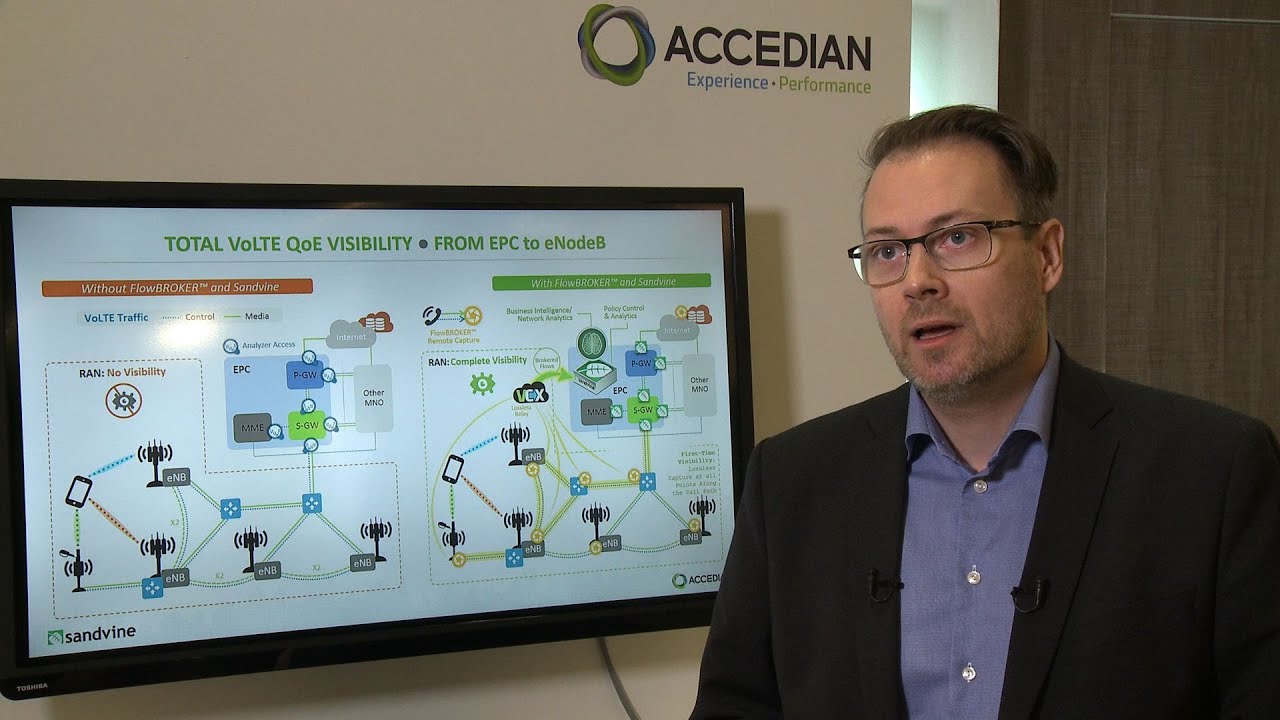 <iframe src="https://www.youtube.com/embed/xxwiXIlCbiM?modestbranding=1&rel=0" width="970" height="546" frameborder="0" scrolling="auto" allowfullscreen></iframe>
VoLTE QoE Assurance with FlowBROKER: Accedian and Sandvine Demo at Mobile World Congress 2016
Introduction
At Mobile World Congress 2016, Accedian and Sandvine discuss their partnership on a demo showing how deep packet inspection (DPI) and distributed packet capture can be used together to monitor VoLTE QoE anywhere in the network.
To deliver VoLTE, operators must be able to assure that the RAN infrastructure is operating optimally in a way that's capable of supporting this service. And, to do that, they must be able to monitor quality at multiple points on the network (including backhaul and transit), taking into account voice quality metrics like congestion fragmentation, latency, packet drop rates, jitter, delay variation. Proper mobile network instrumentation is a prerequisite to assuring those KPIs.
DPI is one method of monitoring and quantifying the quality of VoLTE calls, as well as over-the-top applications. But, DPI analyzers like those Sandvine offerare typically deployed centrally in the network core. Accedian's FlowBROKER solution uses smart SFP modules to move the point of capture out to points of interest in the network for a comparative view of call quality closer to the user.
Accedian smart SFP instrumentation devices are placed at capture points throughout the network. Northbound of that, the VCX controller that collects captured data and sends it via live feed to a DPI or QoE analyzer. The MWC demo used a VCX located in Stockholm, Sweden; a Sandvine analyzer located Canada; and real-time service data captured from a specific handset located on the MWC show facility in Barcelona. This showed how FlowBROKER can be used to capture and analyze application level data on a per user basis.
Traditionally, remote tapping was done using 'dumb taps' that simply mirror traffic. FlowBROKER is 'smart tapping' because it is able to timestamp, filter, package, and securely transmit relevant data to a centrally located analyzer. Backhauling this selected data consumes much less bandwidth than raw mirrored packets.
Beyond VoLTE, FlowBROKER has many performance assurance applications, including video, signaling, routing traffic.
This video includes commentary from Henrik Nydel, Senior Product Manager, Accedian and Nicolas St-Pierre, VP, Office of the CTO, Sandvine
Filmed at: Mobile World Congress, Barcelona, 2016