Proof of Concept: CENGN – Canada's Centre of Excellence in Next Generation Networks
CENGN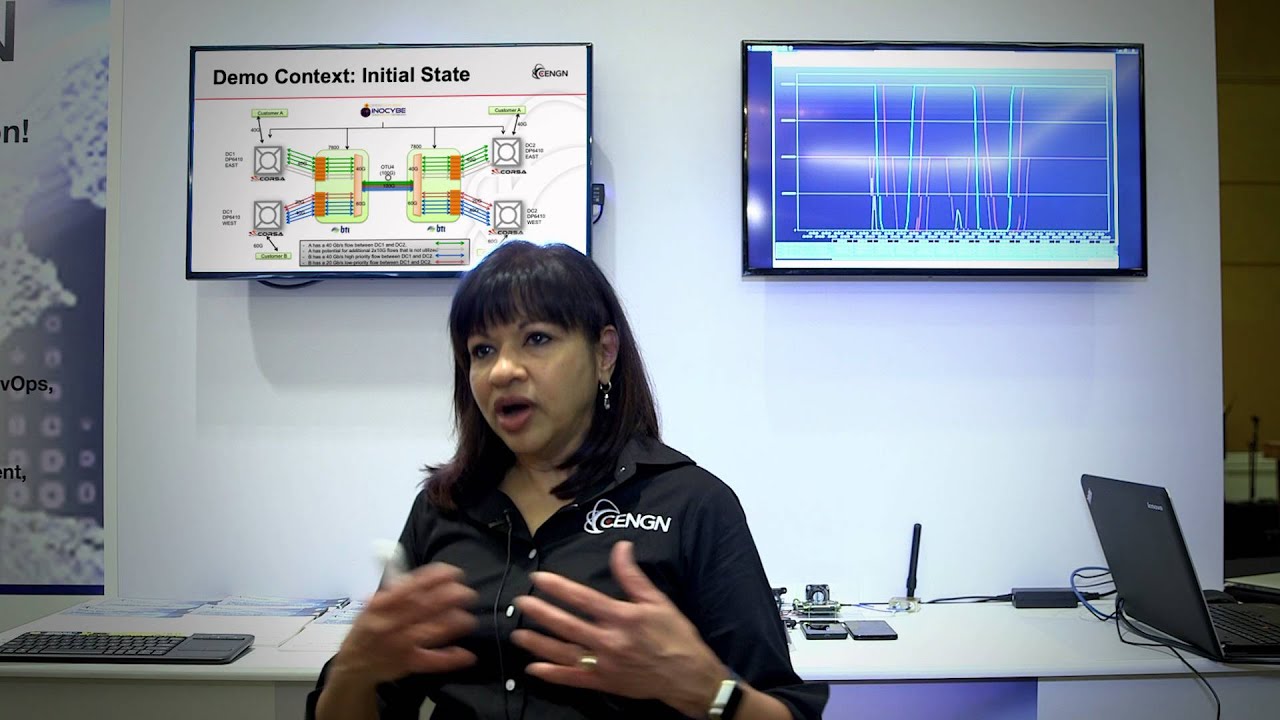 <iframe src="https://www.youtube.com/embed/wl-wXZHkMB8?modestbranding=1&rel=0" width="970" height="546" frameborder="0" scrolling="auto" allowfullscreen></iframe>
CENGN – Canada's Centre of Excellence in Next Generation Networks
Introduction
SDN Solutions Showcase Finalist: Commercial Application: Multi-Site Multi-Domain Data Center Capacity Management (Industry Partners: BTI Systems (CENGN Member) and Corsa Technology)
This proof-of-concept (PoC) demonstrates the ability of a network under Software-Defined Network (SDN) control to respond dynamically to Elephant Flows both on Packet Layer and Optical Layer. The demo context is Data Centre VM Migration that is unscheduled and needs to be done immediately. The following two scenarios utilize a live 100 GB/s CANARIE network WAN link between data centers in Ottawa and Montreal, to show how an elephant flow, during inter-data center transfer, can be addressed automatically with a multi-layer SDN solution – at both the transport and optical layers.
SDN Solutions Showcase Finalist: Commercial Application: NFV-Based LTE Core in the Cloud (Industry Partner: CENGN and Expeto)
This proof-of-concept (PoC) demonstrates a revolutionary method for rapidly deploying and managing an end-to-end, cloud-based LTE core network. This will include the dynamic deployment and enablement of hardware, software and associated SDN/NFV elements. For the purpose of the demo, the Virtual Evolved Packet Core (vEPC), Virtual IP Multimedia Subsystem (vIMS) and additional open source software is running at the CENGN Data Centre in Canada, while the small cell (eNodeB) is located at the SDN Conference in Germany.
Commercial Application: Multi-Layer Data Connectivity Orchestration
Commercial Application: OpenFlow Switch – Hybrid MPLS VPN
Commercial Application: Smart City Infrastructure and Services